Grand Cochon Crowns King of Pork in Chicago
Grand Cochon, the epic finale to the 14-city touring Cochon555 culinary competition, crowned its "King of Pork" on Sunday, October 1 at Morgan Manufacturing in Chicago.
The flagship event of Cochon555's weekend, Grand Cochon, featured 13 chefs competing for the crown with 39 best bites from across the country. These winning dishes were served to the sold-out crowd of more than 700 pork-loving epicureans and 30 celebrity judges who voted for their favorite bites. Together, they crowned Jonathan Granada of Otium in Los Angeles the King of Pork and National Champion.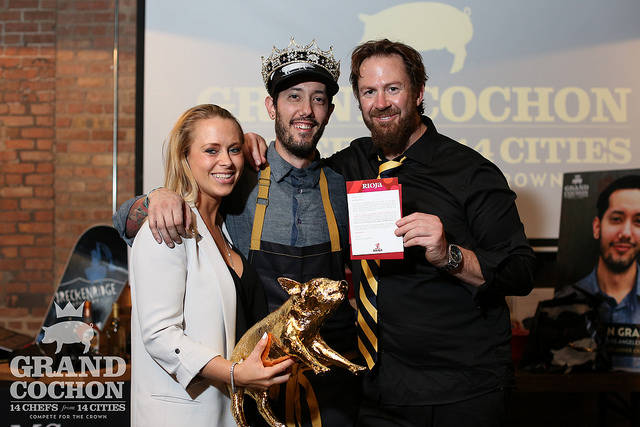 Representing an array of cultures, cities and cooking styles, each of the 13 chefs were tasked with preparing at least three bites of heritage breed pig from the whole-animal menu they created to win their respective cities.
The chefs prepared show-stopping dishes using whole heritage breed pigs but it was Chef Jonathan's plate that won the event with a Gloucester Old Spot breed of pig raised by Step Ladder Creamery & Farm. Chef Jonathan created a winning menu of three delicious bites including Confit Pork Belly with Caviar, Fried Sunchoke, and Stinging Nettle Bechamel, Crepinette with Truffle, Celery Root, Black Rice Chicharron and Parmesan, and to close, Pork Shoulder Vin Jaune and Potato Fondant.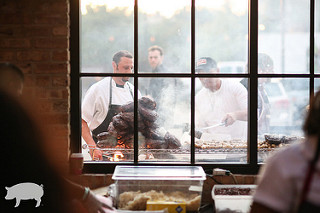 The fairy-tale heritage pork event included dozens of competition plates served alongside artisan wines, boutique spirits, handcrafted cocktails, and some of the best cheeses, charcuterie, sweets, and pop-up food experiences the country has to offer.
Grand Cochon was part of a weekend including epic events that benefited Piggy Bank, a farm-in-the-making dedicated to supporting heritage breed pig farmers with free genetics and financial know-how, including business plans posted online.
"It was an honor to bring these incredibly talented chefs from all over the country to Chicago to support the good food movement," says Brady Lowe, founder of Cochon555. "A big thanks to all our hosting chefs and partners in Chicago, and a much-deserved congratulations to our 2017 King of Pork, Chef Jonathan Granada of Otium. Together, we're putting the spotlight on education, responsible agriculture, and the amazing health and social benefits of working with heritage breeds from family farmers. We were so proud to have Chicago as the centerpiece of our largest event of the year – it truly is the country's premiere dining city. With events like this, we continue to put the spotlight on heritage species and responsible agriculture through our work with amazing chefs, sponsors, farmers and their teams."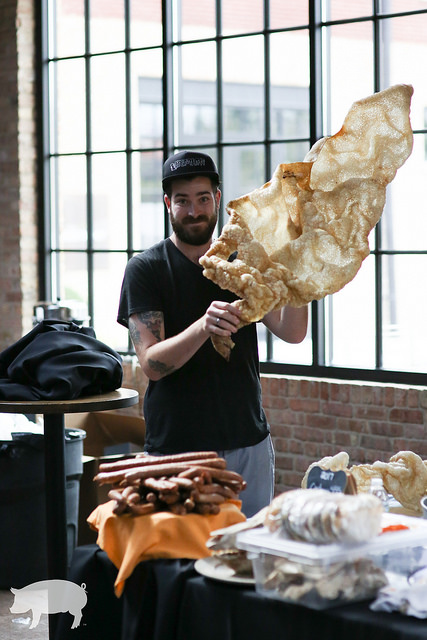 We really enjoyed working on the publicity for this event. The event garnered the attention of local blogs, websites, television and newspapers. The blog, Behind Chicago Food, detailed the event with a tone of major anticipation, even featuring several of the competing chefs.  Michigan Avenue Magazine reported on the unique and interesting nature of the event. Dining Out Chicago profiled Grand Cochon and the surrounding events of the weekend. Chicagoist also featured a delicious breakdown of the culinary event. The Local Tourist shared a delicious post-event write-up. We are looking forward to next year already!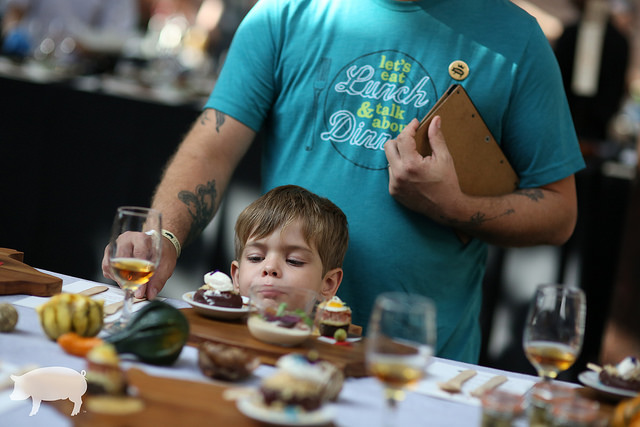 To view photos from the event, click here and enjoy!