Chef Sean Sanders Named New Executive Chef at Fountainhead and The Northman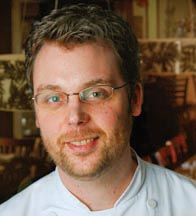 Fountainhead, the well-known craft beer and whisk(e)y destination in Chicago's Ravenswood neighborhood focusing on local and seasonal food, and The Northman, Chicago's first cider pub and bistro opening March 8, are excited to name Chef Sean Sanders as the new executive chef of Fountainhead, Fountainhead Market and The Northman. Chef Cleetus Friedman has decided to depart in early March to pursue another project which will further his culinary and personal passion. Fountainhead Group is thankful for everything Chef Cleetus has done to elevate its food program at Fountainhead and wish him the best.
Chef Sanders will continue the group's commitment to seasonal menus, which highlight local, farmer-driven food, and bring his own particular passion and prowess to the kitchens of Fountainhead and The Northman.
"We are thrilled to welcome Sean, a five-time Michelin Bib Gourmand chef, who shares our passion regarding real foods and cultivating an integrative approach between the kitchen and front of house staff to our group," says managing partner Aaron Zacharias. "For years, we have enjoyed his food and, like the critics, named him one of our favorite chefs in Chicago. Now we have this great opportunity to work together. We could not be more excited about this next chapter."
Chef Sean Sanders, a five time recipient of Michelin's Bib Gourmand designation, was born and raised in Chicago. He graduated from the Cooking and Hospitality Institute of Chicago (CHIC).
Most recently Chef Sanders spent the past six years as the owner and executive chef at Browntrout.
"I am so excited about this amazing opportunity with the Fountainhead Group," says executive chef Sean Sanders. "I am looking forward to returning to the neighborhood I was part of for so long and to dive into the stellar food and beverage program at Fountainhead and create a menu for The Northman. I have admired this well-rounded restaurant and bar group for years and it is my pleasure to be part of the team."
Adds Zacharias: "Fountainhead was founded on the (difficult) idea that we could be the best at implementing an incredible list of beer, whiskey, wine, spirits and cocktails with a chef driven food program to match. We are looking forward to continuing that tradition and expanding the combination of great food and drink to our forthcoming cider pub and bistro, The Northman. Sean and I have already begun the working on the menu, so that everything is in place for our March 8 opening."
Chef Sean will helm up the kitchen at Fountainhead, Fountainhead Market and The Northman beginning at the end of February. The Northman, will open on March 8, 2016 with dinner and bar service, lunch will launch on March 15.
About Fountainhead:
Located at the intersection of the Ravenswood, Lincoln Square and North Center neighborhoods, Fountainhead offers an "old world" yet innovative drinking and dining experience. Known for its comprehensive and ever-changing craft beer list and extremely rare whiskey selection, Fountainhead is a neighborhood gathering place with an amazing roof top garden to enjoy Chicago summers, a variety of special events and a Market right next door where guests can experience Fountainhead to-go. The menu focuses on seasonality and places emphasis on local, sustainable food. Each menu item has been designed to complement the stellar craft beer, whiskey, spirit and wine selection. Those less familiar with Fountainhead's broad beverage menu can rely on an educated, approachable staff to make recommendations. Join the Fountainhead mailing list here, connect on Facebook or Twitter.
About The Northman
From the owners behind Fountainhead, The Northman is Chicago's first bar dedicated to cider. The new bistro-pub will be located at 4337 N. Lincoln Ave. and will offer well over 100 ciders on draft, cask or in bottles. The Northman will also offer carefully selected beers, wines and spirits but the primary focus of this new format will be cider. The curated cider list is incredible and the menu is designed to highlight the diverse selection of ciders and other libations. The warm, hearty fare will focus on seasonality and will complement the ciders on tap and on the menu.
To follow updates on opening and cider news, visit The Northman's Facebook page.